Take your average ceiling to new heights with Plyboo's beautiful and functional acoustical ceiling panels. Our ceiling panel collections come in a variety of colors and patterns that effectively controls sound while adding warmth and texture. These panels are light-weight and easy to install. FSC certification and LEED credits available.
Related Case Studies
Occupying three stories of a high-rise in downtown Seattle, Washington, Moss Adams is one of the oldest and most respected accounting firms in the Pacific Northwest. For the design of its new offices a clean, contemporary look was needed. For a signature contrasting design element, Plyboo Neopolitan bamboo plywood was chosen. With its bright contrasting striations emulating the look of African zebrawood, Neopolitan was used extensively in the reception area, stairwells and hallways. If CPA work seems dull, visit the Moss Adams offices in Seattle. Your mind will change as soon as you step out of the elevator.
View Study
The designers for Jasper's head offices in Santa Clara, CA were looking for a material that they could us to both construct built-in cabinetry and seating as well as a material that they could make a statement with as a ceiling treatment. The architects contacted us and we talked about tonality as well as texture. The final decision was to use the Plyboo edge grain amber plywood for the build-ins and to go with our C9 Reveal pattern in Amber for the ceiling soffits in the conference room. The C9 panels ending up being an interesting juxtaposition to the otherwise linear-modern look of the space.
View Study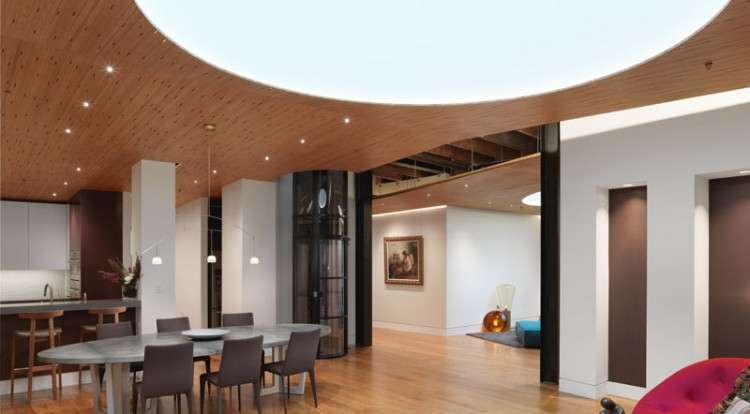 The building site on Moss Alley in San Francisco's South of Market district did not offer abundant natural light opportunities, so the owners, architect and construction company worked together to create a warm and inviting interior space that used both available natural light as well as great interior lighting to bring the focus inward. To add both an edge and some excitement the ceiling was addressed as a key design element. Sections of the ceiling were exposed to show the inner workings of the structure of building. In other areas where they had a straight shot to the roof, they cut large air vent like skylights to bring in as much available light from above. They could have painted the ceilings white to reflect more light, but they went a different direction incorporating our A4 Sound panel in Amber and straying from a continuously flat ceiling added movement by creating different elevations to the substructure that added an undulating sensation to the visual. The result was a warm, inviting and architecturally exciting space.
View Study