Plyboo's innovative and award-winning wall systems add elegance and interest to residential and commercial interiors. From the geometric patterns of the Fractal line, to the refined and sophisticated Louver line, our wall panel systems are a favorite among top architects and interior designers around the world.
Our Sound Collections take high-style to the next level, adding excellent sound dampening capabilities in addition to the stunning visual impact. These designer acoustical panels are an excellent solution for open work spaces, hospitality installations such as hotels and restaurants, and large public venues. FSC certification and LEED credits available.
Related Case Studies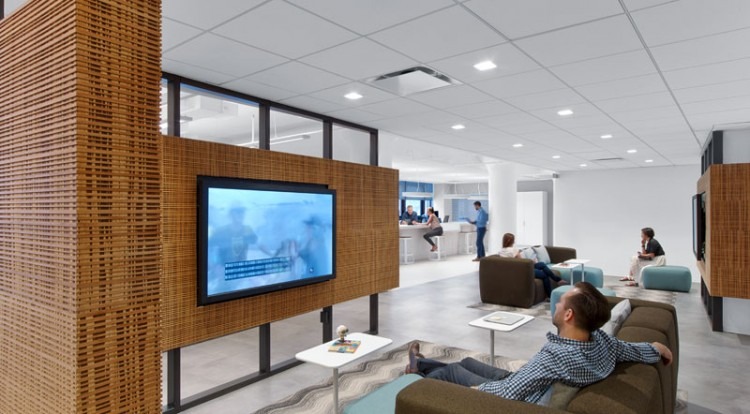 The Architects for WebMD, the New York City, web-based clearing house for health related topics was looking for something that could create excitement and maintain a modern linearity to the look. We showed them our range of Linear lines panels, but the LL4 with the Neopolitan core pattern stuck out. This panel incorporates a perpendicular, organic, woven, two-tone core with the linear lines of the surface grain. The effect is almost textile-like with a hardwood feel to it. It was just the contrast point needed in this modern but comfortable office setting.
View Study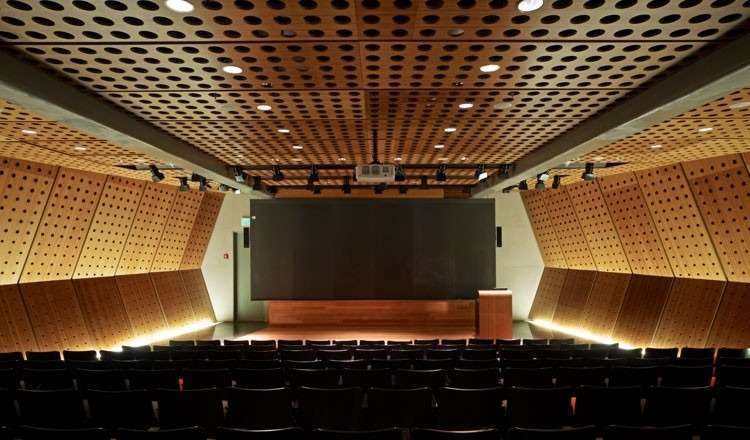 It's not quite the Enterprise, but the theater at Syracuse University's Slocum Hall School of Architecture is equally out of this world. Fabricated by R.B. Woodcraft using our Plyboo edge grain amber plywood, this has to be the most stimulating classroom ever. Durable and dramatic, Plyboo Amber Edge Grain plywood covers ceilings and walls of the Slocum Hall of Architecture theatre. The cut circles help acoustics while providing a decorative component to the building.
View Study
Stantec Architecture was looking for an eye catching wall treatment in a natural material to offset the brick and other architectural elements in the lobby of their Boston, MA offices. They wanted to create a feature wall with both movement and some excitement. A variety of choices were narrowed down to our C5 Reveal panel in Amber with a Penafin Verde nature oil finish. The panels were mounted using our recommended Monarch wall cleating system. The effect hit the spot and Stantec was very pleased with the result.
View Study