Earn Continuing Education Units
Earn credits to fulfill AIA requirements for continuing education.
Learning Objectives
Understand the manufacturing process, construction and environmental properties (Life Cycle Analysis) of architectural bamboo panel.
Understand the set-up, tooling and machinery and techniques associated CNC milled bamboo panels.
Understand the process of fire rating and manufacturing acoustical products utilizing CNC milled architectural grade bamboo panels.
Understanding specify CNC milled bamboo panels including environmental , fire rating, acoustical and architectural grade bamboo requirements.
Submit the form to begin the process and gain access to education materials.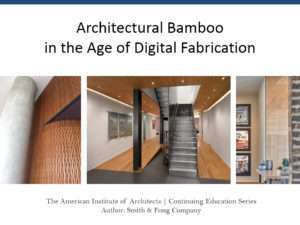 CEU Course for AIA Credit